It might not be noticeable at first, but poker draws many parallels to the business world. The people who succeed in poker are in many ways similar to the people who succeed in business, and the skills that successful poker players have can also be greatly useful when growing your business.
Much like poker, succeeding in business takes tremendous discipline and hard work, and a little bit of luck on the side. But with these skills in hand, you will be able to maximize your gains in whatever field you're in.
Managing Your Bankroll
Great poker players know how to play in stakes that are fit for their bankroll, and successful businessmen likewise know how to handle their finances. Both poker and business have inevitable ups and downs, and proper bankroll management is the key to being able to handle the losses that you will face. 
In business, it's a must to have a sensible financial plan that is realistic and at the same time does not put you at risk of going under. 
Gathering Information 
It's virtually impossible to have knowledge of all the information that there is whether on the poker table or in the business world. This however doesn't mean that you should stop trying to get information.
Use your skills to gather as much information as possible. This information can help you make guided decisions where the odds are in your favor. It's practically impossible to succeed if your decisions are just based on whims and not based on credible information.
Building a Strategy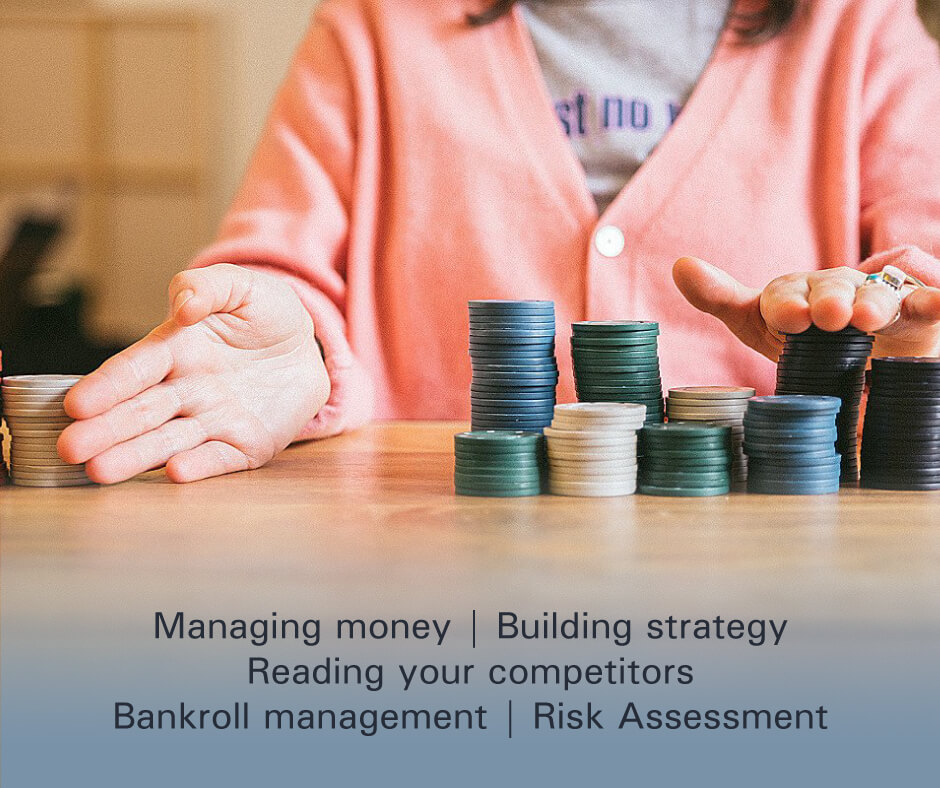 People who thrive in poker and business don't just idly wait for opportunities. They make plans of attack and use this plan to coordinate all their moves towards the ultimate goal of getting that money. 
Formulating a sound strategy is the only way to handle the unpredictability that poker and business bring, and will enable you to take advantage of all situations that come your way. 
Picking Your Spots 
Having a solid strategy doesn't automatically mean that you'll win every time. Poker players who play every hand are no different from businessmen who take on every deal. They inevitably find themselves at a loss in the long run.
You should only take on opportunities that are favorable to you, and pick the right spots to pounce on these opportunities. Patience is an essential part of growing your business.
Maximizing Your Luck
There are days when everything seems to go your way, and these positive emotions can likewise lead you into making subpar decisions or prevent you from taking advantage of the situation. 
Even if you're winning, you should always look at whether or not you're sticking to your plan, and make sure that you're making the most of the things coming your way.
Being process-oriented
One of the top reasons poker players and businessmen fail is because they quit after receiving unfavorable results. It is indeed possible in both fields for you to make all the right moves and still fail. 
Being results-oriented will definitely demotivate you, which is why it's important to remember that running a business, just like playing poker, is a long-term game. You have to commit yourself into observing a rational process regardless of what it brings you in the short term, because it will pay off in the future.  
Folding Your Aces
You can have the best hand in the game or the greatest deal imaginable might be offered to you, but somewhere along the way it seems as if you're being set up for failure, do you push forward or trust your instincts? 
Knowing when to back off despite the initial favorable odds is a skill that can save you and your business in the long run. To successfully grow your business, you should know how to recognize when you're being put at a disadvantage and act accordingly. 
Reading the Competition
Poker and business aren't single-player games. Success comes not just from making the right moves, but also from taking advantage of the weaknesses of your competition.
Being familiar with your competition is essential when growing your business. You have to know the competition thoroughly to gain an upper hand, which will inevitably bring you growth. 
Risk Assessment
Before making any moves, you should always consider what you can lose in comparison to the potential reward. Knowing your odds will benefit you not just in poker, but also in business.
You will be confronted with many decisions that will dictate whether you succeed or not, and it's a must to know what's at stake when making these critical decisions because not everything will be in your favor. 
Using Reason over Emotion
Keeping your cool is one of the more difficult things to do, whether at the poker table or in business, especially when things aren't going your way. This may lead you to emotionally-charged decisions that will lead to immense losses.
It's important to stay present and to stick to the plan regardless of what gets thrown at you. Rational choices are the reason why businesses succeed.